Copyright 2022 © S K Yeo ERA  R006043J  www.SengkangToPunggol.sg
ENGAGING THE RIGHT AGENT IS THE MOST IMPORTANT STEP
Whole Process of selling a property is NOT just only View-Sign-and-Handover-Keys, it involves careful Timeline, Planning, Financial Management, Preparation, Marketing, Buyer Qualifications, Viewing, Negotiation, Closing, Administration, Submission, Processing, Completion. In some cases when not handled properly, it can cause Stress, Hassle, Serious Delays or even Law-Suit !
Selling your property can be a Smooth and Hassle-free process if it is properly planned and executed.
Proper planning, effective strategies and careful executions are required to get your Property sold at the Highest possible price in the Fastest possible time.  And also ensuring a smooth transaction and moving you from your current place to your next home in the most Convenient way for you.   
No Viewing, Not Enough Buyers. No Offer or Offers Too Low. No Feedback from agent. These are typical issues many property sellers are facing.
Don't just engage a real estate agent just because he/she is your relative or your friend or your friend's friend.  Many sellers prefer a professional agent.  
Some agents or internet agency offers low commission to attract customers.   Most of the time, they will cut advertising and other working expenses, which result in poor response and low service quality.  In some cases, they will force sellers to sell at lower prices, so that they can lower their expenses.
It is crucial that you get to know more about the Actual agent who will be representing you in the entire sale process.  Make sure he is a reliable and trusted professional property agent.  The property agent represent and act for you in your Best Interest, always putting your interest first.
Property sellers should engage a Reliable & Professional real estate agent based on their track records or performance, experience and knowledge and product specialization. 
Some agents are Part-timers with LITTLE or NO experience. Some agents are not in the correct market segment. Do find out more on their product specialization ( i.e Rental or Sales, Commercial or HDB or Private Properties ). 
ENGAGE a SELLING Specialist to SELL or Engage a RENTAL Specialist to RENT. Don't Engage a RENTAL Specialist to SELL. Make Sure you check their track records and experience !!! 
Engage an Award Winning Professional Real Estate Agent is winning at the starting point. Winning at Selling Property is not only Selling it, but selling it at the highest possible price at the fastest possible time!!! Leverage on the many years of experience & knowledge of S.K.Yeo ERA.
16 years Full Time Experience
S.K.Yeo graduated from National University of Singapore (NUS) in 1995 and was an Executive Software Engineer before joining the Real Estate industry in 2006.  He was married in 2001 and has two teenage children ( Secondary & Polytechnic Boys).
Mutiple Award Winning Agent
S.K.YEO AWARDS AND ACCOLADES
S.K.Yeo has 16 years of Full Time experience as Property agent since 2006.  He is experienced in handling Contra ( Buy & Sell at same time), Divorce, Bankruptcy, Letter of Admintration / Grant of Probate / Death / Order of Court cases.
Engaging S.K.Yeo means leveraging on his vast experience and knowledge of Selling a Property.  It will be absolutely stress-free for you as he will handle all details, heavy liftings, processes of your property sale for you.  Timeline, Planning, Preparation, Marketing, Buyer Qualifications, Viewing, Objection Handling, Negotiation, Administration, Submission, Processing, Completion and finally Handover. All Processes will be done professionally.
Many Satisfied Customers/ Testimonials
S.K.Yeo stays in Sengkang for 20+ years & Sold many properties in Sengkang/Punggol
S.K.Yeo stays in Sengkang for more than 20 years and in fact, many colleagues called him Seng Kang Yeo ( S. K. Yeo = Seng Kang Yeo).  He is Sengkang Punggol Resident Property Agent.
He stayed with his parents in Hougang before moving to Sengkang in 1999.  When he got married in 2001, he moved his new place in Sengkang near his parents. His family members also stays in Sengkang and has many friends in this area.
His wife Jacqueline ERA works with him together in the real estate business.  They are the Husband & Wife ERA team in Sengkang & Punggol.
Sengkang & Punggol are their home ground for more than 20 years!  They are intimately familiar with Sengkang & Punggol neighbourhood.  They have sold many HDB flats and private properties in Sengkang & Punggol.
As S.K.Yeo property business focus geographical area is this neighbourhood, he has established a Personal Network of Co-broking Partner Agents as well as a Pool of Ready Buyers available in Sengkang & Punggol.   This is certainly a great added advantage when it comes to Speed of Sale and Marketing effectiveness for your property in Sengkang & Punggol.
Advanced Digital Marketing Capabilities
S.K.Yeo was an IT Executive Software Engineer before he joined real estate, and his IT background was an added advantage especially in this digital age.
Besides the regular exposure to property portals and ERA huge digital network, he is also savvy in facebook marketing / google / pinterest / social media marketing.
Largest International Real Estate Agency
ERA Singapore is the Largest International Real Estate Agency in Singapore, with the proud reputation as the preferred real estate brand in Singapore.
ERA Singapore is a Wholly-Owned Subsidiary of SGX Mainboard Listed, APAC Realty Ltd.  Since its inception in 1982, ERA has redefined industry standards for real estate concepts, technology, initiatives, and products 
ERA has more than 7600 Agents in Singapore, and it means if you engage S.K.Yeo ERA, you have 7600 more other agents looking for buyers for you.  This is the leverage power of a big company. 
ERA has its Own Building ERA APAC CENTRE with two in-house auditoriums that boast 400 seats. It has more than 150 dedicated office staff to support your agent with Legal / Valuation / Auction / Training Departments / Digital Technology Tools available.
By leveraging the ERA's Superior Branding, Wider Company Network & Extensive high quality support,  your property will be well positioned to gain Wider Marketing Reach through S.K.Yeo ERA.  This will mean getting your property sold at higher prices and at faster speed.
Advanced Property Photography Visuals
A Picture says a Thousand Words.  Good property photo visuals can capture the hearts of buyers.
There are so many units selling in the market.  Your Property Agent or Real Estate Agent needs to know how to let your Property stand out from the crowd.  He needs to bring out the best potential out of your property and showcase it to the buyers.  This will maximise the selling price and getting your property sold at the fastest possible time.
S.K.Yeo has years of experience of serving Sellers & Buyers.  He know what buyers want and he will "look through" the eyes of a buyer. And he knows where to take photos, which angle, and what to showcase to the buyers.  To bring out the best potential of your unit.  The above are some of the photos to highlight some of the key selling points of a unit he successfully sold in Punggol at Record Price.
Many Testimonials for S.K.Yeo ERA
I have made a mistake of hiring my friend's agent, she wasted alot of my time.   if i have known you earlier, my flat would have been sold much earlier.  Anyway, i am still lucky to engage you as my agent and you sold off my flat for me.
– Mdm Tan, Punggol HDB Property Seller.
​
We have engaged S.K.Yeo for many of our private property buying and selling transactions.  He is very responsible, helpful and fast-acting. Updates regularly about the sales process.  Always remember to switch off all electricity in our unit (We ever saw our neighbour's balcony light on for several weeks — not switched off by their agents).  Overall a smooth process. Achieve a better price than we expected.  As we are very busy individuals, he was very accommodating to our timing, a A+ service.  Kudos to S.K.Yeo !
– Mr & Mrs Tan, Condo Sellers and Buyers. 
​
Mr Yeo Soon Kin is a diligent, sincere, and knowledgeable agent who had been instrumental in helping us to ensure a smooth and fuss-free transaction for our HDB property. Right from day one, he was very clear and patient in explaining the entire process and stages involved in the sale of HDB property to ensure a smooth experience for the sale of our unit.
I would like to highlight the extreme professionalism and detailed care that Mr Yeo S.K. has shown to us in helping us handle the sale of our first home. Right from the beginning, he guided us through the necessary steps and managed the timeline for our move. The experience Mr Yeo S.K. brought with him, coupled with his humble approach and disposition, went a long way to ensure everyone was satisfied with the outcome of the transaction.
Last but not least, we would like to express our heartfelt appreciation to Mr Yeo S.K. for his dedication, prompt service, and quick follow-up actions to accede to our requests. His wealth of experience and customer-oriented approach makes him an excellent, reliable agent who could be trusted to do his best.
– Vincent & Belinda, Sengkang HDB Property Sellers
​
​
"你幫助我們很快售出我們的組屋, 並且幫我們獲取高於市場價格。你的工作態度很專業,
 我們對你 的服務感到非常滿意, 特別是你快速的反應。我們很幸運有你代表我們 !"
– 榜鵝组屋賣主 : 陳先生及夫人
​
We decided to engage Mr SK Yeo to sell our 4rm unit in Punggol after reading up on his past testimonials, studying his background and also a face to face meet up to discuss the processes and timeline involved. Being a specialist in the Punggol/Sengkang area, we were convinced he has the knowledge and experience to market our property in the best possible manner.
Throughout the period that he was marketing our unit, he has proven to be a very efficient, responsive and professional realtor. He keeps us updated in advance of viewings and does his best to coordinate viewings to the convenience of both buyers and sellers. He is very resourceful and has a vast network of co-agent colleagues and ready buyers, so that our unit receives the maximal exposure.
He fights tirelessly for the highest price possible and is a shrewd negotiator, while keeping his clients in the loop constantly. Due to his diligence, he has assisted us to run errands to HDB Hub, collected cheques and deposited them on our behalf, all of them done without us having to worry.
Mr SK Yeo and Ms Jacqueline Loh work hand in hand, complementing each other seamlessly. They are always contactable, even when they are overseas, they would make arrangements to look after our interests and always putting their customers first. When you engage them, you are actually getting two agents to look after your needs but paying only one commission.  In summary, Mr SK Yeo and Ms Jacqueline Loh make an outstanding team. We strongly recommend them if you need a realtor who is highly responsive, efficient, knowledgeable, courteous and professional for your housing needs.
– Kevin & Angela, Punggol HDB Property Sellers
​
黄金夫妻档,你,值得信赖!  非常幸运,我们全家将屋子委托给杨氏夫妇办理,因为他们的守护,让我们得到了很好的售价;因为他们的守护,让我们深爱的屋子得到很好的归属。
非常感激,正是这对黄金档夫妻,有他们的专业和对客户负责的态度,让我们在整个售卖屋子的过程中,全程无忧,得到一个完美的结局。
如果有人需要买卖屋子,我一定会告诉他们,ERA有一对杨氏夫妻,他们非常专业,他们做事负责,他们会以客户的利益为先,做出专业的建议,给到客户满意的服务。
– 盛港组屋賣主 : 吳先生及夫人 
​
"I would like to commend S.K.Yeo for being very professional. Sold my house within a month ! ! ! He provides excellent advices and constant updates throughout the whole selling process. Very Sincere and Efficient. Thank you !!!"
– Mr & Mrs Lee, Sengkang HDB Property Sellers
​
We wish to send in our feedback and commend agent SK.Yeo (杨顺锦) for his excellent services provided to us in the sale of our HDB.  Agent Yeo was efficient, patient and knowledgeable throughout the sale process of our HDB flat. With just one viewing, we managed to find a suitable buyer ahead of our expected timeline! He was prompt and responsive to our queries, had always put our interests first and assisted us with negotiating favorable terms with the buyer. We were very pleased with his services in the resale process.  S.K.Yeo is an exceptional agent whom we highly recommend to when one is looking for a trustworthy, honest and professional housing agent.
– Aaron & Sharon, Punggol HDB Property Sellers.
Customer's Interest comes First 
Every Property has its strengths and weakness, and every owner's priority, timeline and next housing options are different.  Each client has his own unique set of financials and circumstances. 
S.K.Yeo tailor custom-made planning and marketing strategies according to the specific needs of the customers, and characteristics of the property.  
One of the most important criteria of the property agent or the real estate agent is that he or she must act professionally for your best interest.   For the owner, it would mean Peace of mind to have someone who would be always on their side and assist them in every aspect of the sale process.
Besides getting the highest possible price, for those who needs to do both buying and selling together, S.K.Yeo will negotiate for possible extension stay on behalf of the owner.  This will save the owner the hassle of moving 2 times and having to rent a temporary place.
Engaging S.K.Yeo means leveraging on his vast experience and knowledge of Selling a Property.  It will be absolutely Worry-free for you as he will handle all details, heavy liftings, processes of your property sale for you.  Timeline, Planning, Preparation, Marketing, Buyer Qualifications, Viewing, Objection Handling, Negotiation, Administration, Submission, Processing, Completion and finally Handover.   All tailor-made to your needs and done professionally with regular reporting and updates.
​
PROVEN SALES TRACK RECORDS & STRATEGIES TO GET YOUR SENGKANG / PUNGGOL PROPERTY SOLD.  Contact S.K.Yeo at 93667373 for a non-obligatory discussion/whatsapp chat now ! 
If you are currently selling your unit with another agent and you have the following issues, you can contact S.K.Yeo ERA.
Call S.K.Yeo Today.  No obligation means you can choose not to engage S.K.Yeo if you find him not suitable.  Absolutely No questions asked.  If your property is not sold, you do not need to pay S.K.Yeo a single cent !  No Hidden Cost !  No Upfront Fees !  Free Enquiries.  
Contact S.K.Yeo ERA today
If you have no agent and have intention of selling your unit, and you have following questions, just contact S.K.Yeo ERA for a free chat / discussion.  (no obligation).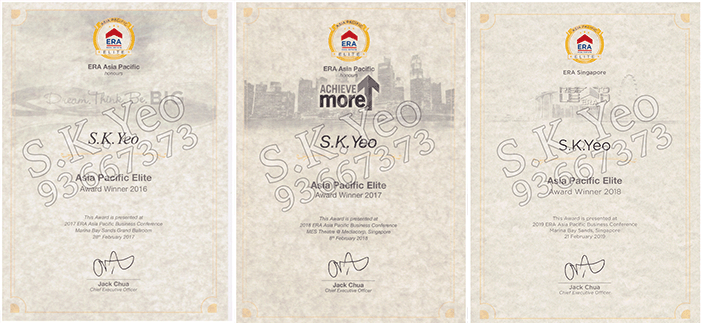 1ST TOP TRANSACTOR in Mar 2009
6TH TOP PRODUCER in May 2009
2ND TOP PRODUCER in June 2009
10th TOP PRODUCER in Aug 2009
15TH out of 7000 AGENTS, 2009
SAEA EXCELLENCE AWARD, 2009
TOP 100 ACHIEVERS in 2010
30TH TOP PRODUCER in May 2011
TOP 100 ACHIEVERS in 2011
1ST TOP PRODUCER, Jan 2012
MILLION DOLLAR PRODUCER, 2012
EMERALD CLUB AWARD, April 2012
TOP PRODUCERS 2013
TOP PRODUCERS 2014
TOP PRODUCERS 2015
TOP PRODUCERS 2016
ASIA PACIFIC ELITE WINNER 2016
TOP PRODUCERS 2017
ASIA PACIFIC ELITE WINNER 2017
TOP PRODUCERS 2018
ASIA PACIFIC ELITE WINNER 2018
TOP PRODUCERS 2019
TOP PRODUCERS 2020
ASIA PACIFIC ELITE WINNER 2021
​S.K.Yeo was also featured on Mediacorp Channel U and independent ThreeBestRated website.